Damian Lazarus: 15 Things That Have Influenced The Crosstown Rebels' Boss
Over the past decade,
Damian Lazarus
has seen his label Crosstown Rebels grow to become the preeminent independent label in underground dance music. Striking the perfect balance between avant garde experimentalism and big-hit accessibility, the label celebrated its 10th anniversary with a four-month world tour at the beginning of the year that included stops at Fabric in London, Panorama Bar in Berlin and Miami for Winter Music Conference.
In addition to running a label and DJing across the globe, Lazarus has found time to release a little of his own music. His debut album,
Smoke the Monster Out,
was released on Get Physical Records in 2009, followed by a series of solo and collaborative singles: "Different Now," "Rise Before Zod" and"Robot Heart." On Sunday (June 23), Crosstown Rebels Presents Get Lost will take over the Neon Garden stage at Electric Daisy Carnival, where Lazarus will be joined by label mates Jamie Jones, Art Department, Infinity Ink, Subb-An and Francesca Lombardo in addition to Pete Tong and Sasha.
Lazarus' success is due in large part to his wide-ranging and idiosyncratic interests in music and beyond, which has allowed him to stay ahead of the curve, unearth emerging talent and throw some of the
coolest parties
on the planet. Here, he takes us through 15 of the biggest influences that have shaped him into the A&R wizard and great curator of music that he is today.
1. My Grandfather


He was pretty instrumental in getting me into music when I was very young. He was a massive fan of musicals, like old London musicals or Hollywood musicals. He would spend all day listening to scores, which really rubbed off on me. He gave me a really good foundation for appreciating all sorts of music, because if you start with something like that, you appreciate the formation of songs, melodies and the beauty of music.
2. Oliver Twist
This kind of ties in with my family and grandfather. There's one track from Oliver! called "Reviewing the Situation" that I've been known to play. On my first solo album, Smoke the Monster Out, it was really important for me to have it reflect as many of my inspirations and influences. I made this one track called "Finding It Hard" [that sampled "Reviewing the Situation"].

Unfortunately, they wouldn't give me the rights to use the song, so we gave the track away for free.
When I was a teenager they were, for me, hands down the best thing since sliced bread. They were a trio from London and they were heading that kind of U.K. soul movement. They had a couple big hits, "Hanging on a String" and "Magic Touch," and they were produced by a guy named Nick Martinelli, who was responsible for a lot of U.K. soul bands at the time. That combination of electronics and soulfulness was something that really did it for me when I was young.
4. Pirate Radio


I used to kind of get most knowledge about new music from listening to pirate radio. It helped me discover certain raves and parties when I was younger. Every weekend you could turn the FM dial pick up 20 or 30 stations, playing everything from jungle, to garage, to house and techno to hip-hop. They'd have to move around, because their antennas would get spotted, and the police would shut them down. So they'd go off the air, move to another location and pop back a few hours later.

There's a rawness that you don't get anywhere else. It's completely honest and unscripted; anything can happen and anything can get played. You feel like you're a part of a movement when you're listening. Later on, I was invited to be a drum and bass DJ on one of the best pirate FM stations, which was a dream come true at that time.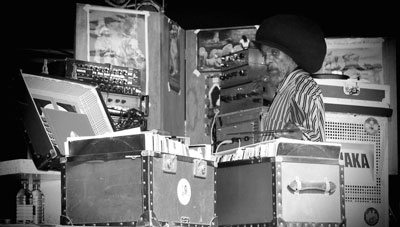 Jah Shakah, Credit: Facebook
The reggae scene in London was really happening when I was growing up. As I started to discover the roots of dub and reggae, there was this one DJ, Jah Shaka, who built this amazing sound system that was essentially a one deck, like a cabinet of sound. I went to a couple of his raves that were really kind of dark and proper underground—you couldn't breath from the marijuana in the air. I just remember being absolutely blown away when I discovered that for the first time. Some of my deepest, darkest moods are there. A completely different culture to what I do now as a DJ, but I think the influences and inspiration from that, you'll hear sometimes, when I'm playing, especially when I kind of try to bring in that kind of element of that deep, dark, head-nodding sound.
Well, for me, he's the ultimate—he inspires in absolutely everything he does, from his movies, to new soundtracks, to illustrating cartoons for Mexican newspapers, to tarot readings and to psychomagic. I think The Holy Mountain is one of the most beautiful movies ever made. Super weird, one of the weirdest movies ever made. They even hold weekly psychomagic in this Parisian café, to really do it in the moment. He's relentless in his pursuit of art, and a huge inspiration for me really.
I'm just so touched by this guy who was such a troubled soul, yet made the most incredible music and was really an icon to so many people. I mean now, you can hear that all time. But there's something about his ability to write the most amazingly beautiful music with great guitars in a way that's extremely difficult. The gentleness of his music kind of helps me to calm down from a week of touring and playing house and techno—any number of these tunes will just immediately bring me back down to earth.
She's one my favorite painters. When I was a kid, I used to love stories about animals that talked and her work kind of personifies a lot of my love for these weird things. People are like animals in surreal scenarios, like strange cats and people with weird eyes. She manages to put them in these ultra-weird environments in such a gloriously colorful way. But her life is very interesting—she was from the U.K. but lived in Mexico, and was friends with Frida Kahlo and Diego Rivera and was engulfed in that whole crew.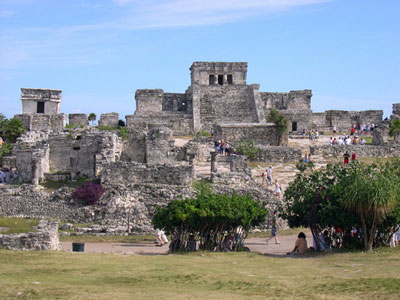 About nine years ago, I got invited by friends come to play a New Year's Eve party in Playa del Carmen, [Mexico]. And after the party we were invited down to this place called Tulum. And I just fell in love with it immediately. Over the years, I just spent more and more time there. I probably go three or four times a year. It's the place where I feel most grounded and connected with the universe. The sky at night there is so clear, and you're very close to ruins and the history of the Mayan people, which is a very grounding experience. It's a great place to write music. It's a great place to listen to music. It's a great place to feel. I just love this part of the world.
I think this ties in with Jodorowsky and places like Tulum, but I've been very interested in witchcraft and the dark arts for many years, buying every possible book I can find on the subject. I like the idea of actually being able to create magic, and I try do that as an artist—playing around with people's minds a little bit, and banking off the persona of a mad magician sometimes. In later life, I see myself as a weird old hermit living with broomsticks and messing around with alchemy and making gold, peeling roots, mixing herbs, trying strange elixirs and having people come to me for some advice about weird shit.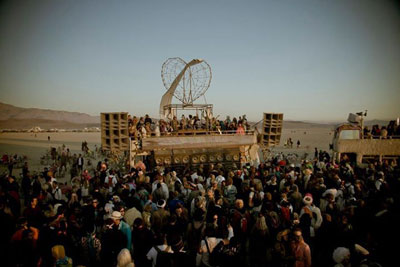 Burning Man, Credit: John Dill/Crosstown Rebels Facebook
It's been a bit of a game changer for me. A lot of times with the label and the parties that we do around the world, there's a lot of organization and a lot of that pre-planning trying to gather the right people at the right time. But for one day a year that [vibe] gets created on its own. It's almost a meeting of like-minded souls. I've been given an opportunity to create this party with the Robot Heart guys that is possibly one of the best things that I have in my life right now. I mean, it's so special, and it's the moment where I get to make all the dreams come true. I'm getting goosebumps just thinking about it. Burning Man has given me an opportunity to explore myself and get the large grips on who I am and why I do the things I do. I highly recommend it to anyone that's remotely interested in making themselves a better person.
12. Jake and Dinos Chapman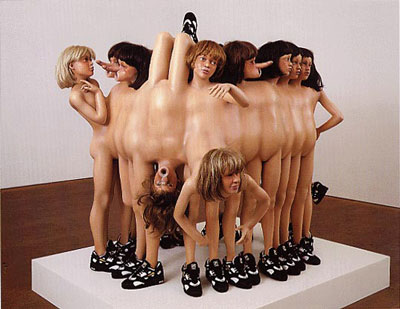 Two creative visionaries that just feel so cutting edge, and [their work] has this element of danger and weirdness that I love. When I used to work at Dazed and Confused, they gave us one of their face pieces, a kind of weird mannequin. And one day after work, a few of us had some beers and we're kicking a ball around, and someone smashed the statue and it broke. Thinking on my feet, I thought, "Oh, I should probably grab a piece of this." So yeah, I actually own one of the small penises [Laughs]. I have it on my mantelpiece at home. It's far cheaper than buying one of their pieces these days, that's for sure. [Laughs]
Clowns play a very big part in my life, and there's one scene inThe Clowns that is one of my favorite movie scenes of all time. I would have loved to have been on the set. The attention to detail is just striking, with people coming in and out of the various corners in costumes, the bizarre performances and all these artistic moments. I hope he doesn't mind that I nicked it in my "Different Now" video. The great thing for me is there are a lot of people around the world who think I actually made it [Laughs]. Bizarrely, I kind of find that the scene works really well with the track. [Ed: This is especially true at 3:48 when the words "I can feel the force of your eyes" are matched with a zoom-in on a clown's face!]
I came from soul and funk, and that was my music. Slowly but surely, that soul and funk was appearing in electronic music. And then I started to get into darker, more experimental sounds, especially jungle. Jungle was massive for me. That led to going to club events like Metal Headz Sunday Session Club Nights at the Blue Note. Everyone in that scene would say that Photek was the man, hands down. He is the producer's producer. And in the creation of making this futuristic music, he brought in these elements that were lacking—the whole kind of samurai sound, and the art of Zen. He was just far beyond most producers making music in that scene. I would be very proud of my achievements if I were him.
I was very sad when he passed away, really shaken by it. I'd met him a couple times, and this guy was an unbelievable talent. He could have easily gone the same way as Nick Drake and never been discovered, but his music was discovered very late in the day, and the way that he reacted to his newfound success had such beauty and grace. And his live performances were just breathtaking. He had an incredible voice. Before he died, he managed to make some music withMassive Attack, which I think is very fitting, those two artists coming together to make something amazing. It sounds a bit cheesy, but his music will definitely live on for me. I will never let his music go.